Master Puppeteer Surchart Subsin
Cie Ban Nang Thalung -110/18 Si Tammasok, Soi 3 - Nakon Si Thammarat - Thailand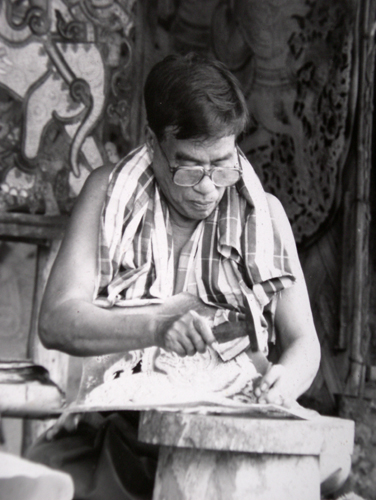 Surchart Subsin was born on July 2, 1938, in Tha La District. He finished primary school and began studying and developing his interest in shadow puppets, or Nang Thalung. He learned the process of making the puppet as well as performing. At the age of 16, he used his knowledge and began the performance of the characters he had developed, Surchart soon became well know as a shadow puppet performer and maker. In Thailand especially in the south, he has obtained many awards for his extraordinary abilities. He has also had many opportunities to travel abroad to show his art and learn from other cultures. He has a professional skill in this art and is considered to be the best in southern Thailand.

In 1985, He had a once in lifetime opportunity to perform for his majesty King Bhumibol Adulyadej At Thaksin Rachanivesha Palace. He was gratefully thanked many times by his majesty the king for helping to keep such an ancient folk art alive in modern times. Surchart has passed down the art of shadow puppet making to his children and the people of southern Thailand spirit and pride.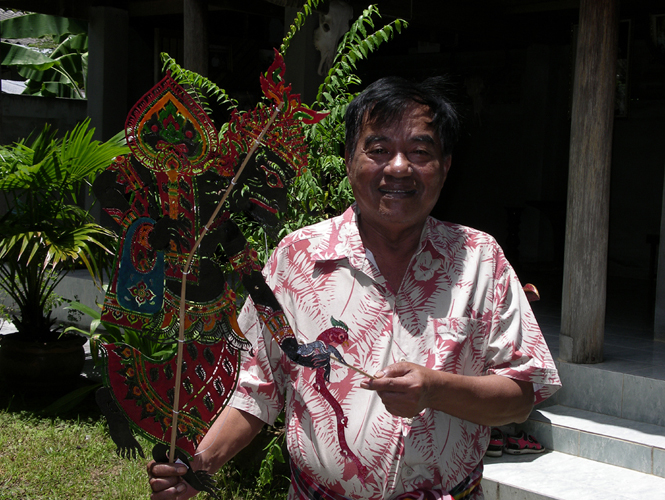 Inspired by his majesty the king's words, Mr Subsin has opened his home at 110/18 Si Tammasok, Soi 3, Nakon Si Tammarat, to many people who are interested in puppetry in the hope that the entertaining Nang Thalung is not lost. Surchart has made in Nakon Si Tammarat one of the centres for puppetry, and as such, it is becoming popular for both foreigner and domestic tourists.
The shadow puppets have evolved from something simple to something with full detailand coulour. they are used as forms of entertainment reflecting modern times, and they are also full of humour and life. The puppets are vey popular at festivals, celebrations and birthdays. The performance of the shadow puppet goes back long ago and into many countries including, Malaisia, Egypt, Turkey, Greece, Indonesia andThailand. The history of puppetry is based on Hinduism. Many performances have a religious theme and they are very entertaining and quite enjoyable.
There are various characters, each with a distinctive silhouette that is comic.
During the show, the puppets are placed behind a white curtain with a light shining from behind, creating a beautiful silhouette. The puppet master himself is the only one who tells the story while moving puppets, thus he needs to use a variety of voices and needs to be talented in story telling. During the show, drums, gongs, and cymbals are usd to help in the story telling of the play.
Making the shadow puppets is a lengthy process which takes a lot of talent. A treated cow hide is dried for 3 days on the frame. When the leather is set, a design is drawn on the leather. Desingns can vary depending on whether they are characters or animals for plays or decorating homes. the design is carved out using small hand tools. Carving the leather takes patient, talent and a lot of time. carving can take hours or months depending on the detail of the design.
The hide is then painted using black, green, red and yellow colours. Bamboo rods are attached to the puppets to manipulate the movements of the caracters. The puppets are sold at the markets and festivals, and are used in performances or to decorate homes. They make great souvenirs.
Nowadays, it is wonderful to see someone like Surchart Subsin and all his family with such of love for the shadow puppet handicraft, trying to keep the past alive, while making it enjoyable and entertaining.
He has helped to develop and teach the southern Thai culture through his art.
Surchart has made a lasting inpact on puppetry for generations to come
Mr Subsin wants to keep history alive at his home where there are many shadow puppets from around the world dating back 200 years , as well as more recent ones. he shows the progress of the intricate design and usage of colour. Included in his museum are puppets from around the world. he helps to promote local tourism by also showing an abundance of tools used in farming. Surchart also promotes media and the fights against AIDS and Malaria.